PH Electrode
Wetted Parts
Body ‐ Glass
Housing – Std PVC (Optional – Teflon/SS316)
Cap – Std PVC (Optional – Teflon/SS316)
Process Connection
3/4" bsp (NPT optional)
ATC (optional)
External Pt100 (Pt1000 optional)
Temperature Range
0 – 600C (Optional upto 1300C – with Teflon/SS316)
Pressure Range
0 – 6 bar Std
Sensor Cable
3 meter Std
Cable Connector
BNC
Range
00.00 – 14.00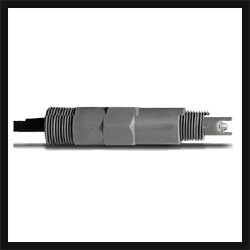 The sensor shall have these important enhanced performance design characteristics:
a) Manufactured to exact tolerances using high quality, rugged materials.
b) Individually tested to determine its absolute highest possible measuring accuracy.
c) External Pt100 [Pt 1000 optional] RTD temperature element for exceptionally fast response to changes in Temperature with ± 0.10C accuracy.
Applications:
o Food Industry
o Pharmaceutical
o High purity water
o Reverse Osmosis Plants
o Waste treatment Plants, and other processes
o Heavy duty electrodes for boiler applications