TDS/ Conductivity Electrode
Heavy duty electrodes for boiler applications
Available with ATC Pt 100 for most makes and models of conductivity transmitters or controllers
0.05, 0.1, 1.0 and 10.0 cell constants available
Extended length version for mounting in cross
PRERNA ENTERPRISES manufactures a quality line of industrial grade conductivity electrodes for submersion or in-line mounting. All electrodes are constructed of stainless steel bodies and pins (SS316) and either teflon or peek insulator. Automatic temperature compensation is available as an option. Applications may include food, pharmaceutical, high purity water, reverse Osmosis, waste treatment, and other processes.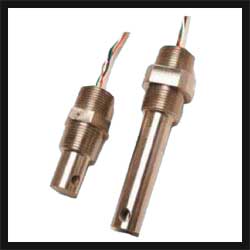 Engineering Specification
1. The sensor shall have these important enhanced performance design characteristics:
 a) Manufactured to exacting tolerances using high quality, rugged materials.
 b) Offers durable 316 stainless steel body conductivity and resistivity sensors with NPT connection mounting.
 c) Individually tested to determine its absolute Three-digit cell constant, ensuring highest possible measuring accuracy.
 d) Built to include a Pt 100 [Pt 1000 optional] RTD temperature element within its tip for exceptionally fast response to changes in Temperature with ± 0.1 oC accuracy.
 e) It is suitable for operating temperature upto 135 oC and Pressure upto 100 psig.

2. Available with cell constant of 0.05, 0.1, 1 or 10 and fitting with ¾" NPT male.
3. The sensor shall have an integral 3 M cable, or an integrally mounted junction box (polypropylene, aluminium or 316stainless steel) that requires optional interconnect cable.
Wetted Materials:
STAINLESS STEEL 316 BODY AND TEFLON INSULATOR,
Ordering Information:
| Range | Conductivity Range [S/cm] |
| --- | --- |
| 0.05 | 0 – 1, 0 – 5, 0 – 10 |
| 0.1 | 0 – 20, 0 – 50, 0 – 100, 0 – 200\ |
| 1 | 0 – 1000 |
| 10 | 0 – 10000, 0 – 50000 |