Fuel Flow Meter manufacturers and Diesel Flow meter suppliers from Pune, Delhi, Mumbai, Kolkata, India
Prerna Enterprises are leading fuel flow meter manufacturers and diesel flow meter suppliers and exporters in Pune, Delhi, Mumbai, and Kolkata. Since 2013, we have provided the best Fuel Flow Meter in India.
Diesel flow meters are crucial instruments used to measure and monitor the flow rate of diesel fuel in various industrial applications. They are essential for efficient fuel management, ensuring accurate measurements, and preventing wastage. These devices come in various types, including mechanical, electronic, and digital models, each with its specific features and advantages.
Positive Displacement Oval Gear Sensor contains a pair of oval gear rotors. Positive Displacement Oval Gear sensors where the liquid passage causes two oval gear rotors to rotate within a precious measuring chamber and with each of rotation a fixed volume of liquid is displaced passing tgrough the sensor. Magnets which are inserted in the rotors transfer pulse train output.
The pulse output is then interfaced to above monitoring / process control instrument.
TECHNICAL DETAILS:
| | |
| --- | --- |
| ENCLOSURE | ALUMINIUM ANODISED/ SS316 (Optional) |
| ROTOR (GEARS) | ALUMINIUM ANODISED/ SS316 (Optional) |
| O‐ring | NBR/VITON/SILICON |
| SHAFT | Hard STAINLESS STEEL |
| Accuracy (standard installation position) | ±1% RS |
| Maximum working pressure | 10MPa (35~85%RH) |
| Fluid working temperature | ‐40 to 80°C |
| Power Supply Voltage | 3 – 24 VDC (generally given through our controller) |
| Output Signal | NPN Open Collector |
| Major Fluid | kerosene, Gasoline, Diesel, light oil, heavy oil etc |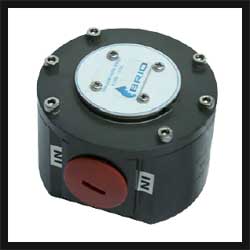 FLOW RANGE:
| Pipe Size | Model No | Flow Rate (MinMax) | Litter/pulse |
| --- | --- | --- | --- |
| 1/4" | CI‐003‐A‐A‐S | 0.05~50L/H | 0.333 ml/p |
| 1/4" | CI‐004‐A‐A‐S | 0.7 ~60L/H | 0.416 ml/p |
| 3/8" | CI‐006‐A‐A‐S | 5~150 L/H | 0.661 ml/p |
| 3/8" | CI‐008‐A‐A‐S | 20~300L/H | 2.5 ml/p |
| 1/2" | CI‐012‐A‐A‐S | 50~800L/H | 2.5 ml/p |
| 3/4" | CI‐020‐A‐A‐S | 50~800L/H | 15.4 ml/p |
| 1" | CI‐025‐A‐A‐S | 200~4,000L/H | 25.6 ml/p |
| 1.5" | CI‐040‐A‐A‐S | 500~10,000L/H | 86ml/p |
| 2" | CI‐050‐A‐A‐S | 600~20,000L/H | 190ml/p |
| 3" | CI‐080‐A‐A‐S | 1000~50,000L/H | 540ml/p |
| 4" | CI‐100‐A‐A‐S | 2000~1,00,000L/H | 1000ml/p |
| 5" | CI‐150‐A‐A‐S | 5000~1,50,000L/H | 3200ml/p |